According to Entrepreneur Magazine, branding is the marketing practice of creating a name, symbol, or design that identifies and differentiates a product from other products. In layman's terms – it's who you are, what you offer, and why you're different.
And while you're probably already familiar with branding, i.e seeing the Apple logo and thinking innovation, creativity, or iPhone, you might be wondering how branding can help a small business.
Why Branding is Important for Small Businesses
Deluxe.com recently wrote an article on the top reasons why a strong brand is important for a small business. A few of those reasons are:
Branding improve recognition
Branding creates trust
Branding supports advertising
Branding generates new customers
These reasons alone make branding a necessary component to any marketing strategy. The more prospective customers see and positively respond to your brand/company, the more likely they are to buy from you when they need your product or service.
What marketing tactics can you use to amplify your brand? Pay-per-click (PPC) advertising.
Using PPC to Amplify Your Brand
PPC is a great way to build brand awareness for your small business. The ability to (potentially) show up at the top of the search engine results gives you every opportunity to expose more searchers to your brand.
Below are a few ways you can optimize your PPC ads to ensure you're giving off the right impression:
Ad Copy
Ad copy is critical to the success of your PPC campaign. After all, it's what's going to hook searchers and get them learning more about you and your products/services.
Use your ad copy to appeal to the different stages your searchers may be in.
Clinique's PPC ad appeals to new Clinique customers (15% off your first order), current customers (top selling skincare), and also offers them different ways to purchase (phone number, in-store, online).
Also note that their ad focuses solely on makeup. There aren't any links to follow on social media, go to an About page, or Meet the Team. Makeup is what the ad is about.
Use your ad copy to showcase your most popular products, deals or specials you're currently offering, and the ways to get in touch. Buyer personas and the stages in your buyer journey can make writing your ad copy easier.
Using Long-Tail Keywords
You've probably read about long-tail keywords – how they're used in content marketing strategies to educate and build brand awareness. Well, long-tail keywords are also good to use in your ppc campaign.
Take this example: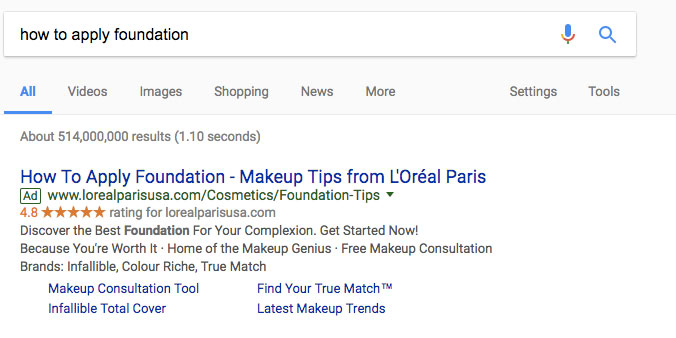 Searching for 'how to apply foundation' brings up a L'Oreal ad with the same phrase within the ad, along with ad copy surrounding makeup tools, free makeup consultation, foundation tips, and more. This increases L'Oreal's trust, as they're actively trying to educate searchers on how to apply their foundation.
If you offer tutorials or how-tos, use those long-tail keyword phrases in your ad campaigns. Target those looking for information so you can be seen as a thought leader and expert. Customers are more likely to buy from companies they trust, so use this valuable search engine result real estate to show that you are worthy of that trust.
Competitor Searches
Another way to amplify your brand is to show up when someone searches for your competitors.
Take Toyota for example: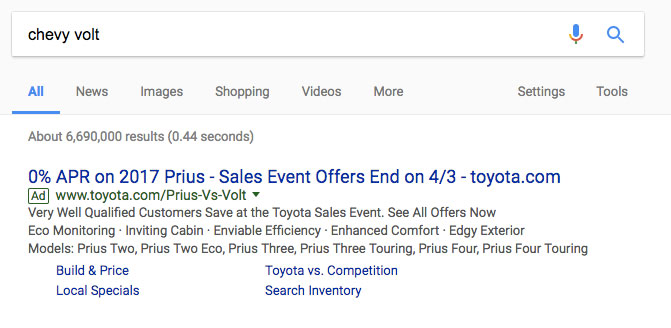 When someone searches for the Chevy Volt, an electric, eco-friendly car, an ad for Toyota Prius shows up. And look at the ad copy:
URL: /Prius-Vs-Volt
Message: Eco Monitoring, Inviting Cabin, Enviable Efficiency
Sitelinks: Toyota vs. Competition
Pretty darn good.
Another example: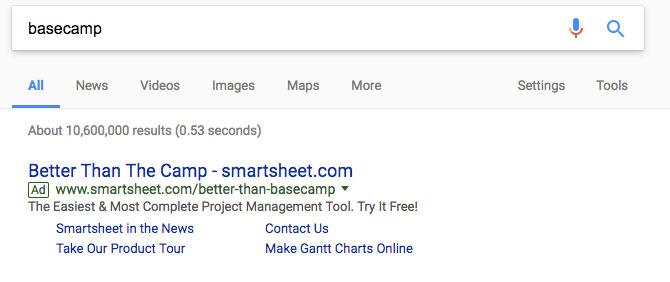 When searching for Basecamp, a project management tool, Smartsheet shows up. And again, the ad copy is quite good:
URL: /better-than-basecamp
Messaging: Better Than The Camp
Sitelinks: Take Our Product Tour, Smartsheet in the News
This ad takes advantage of the fact that you probably don't know who Smartsheet is, making you want to know who they are and why they are better than their competitor.
And when you click to their landing page, you see a features/benefits list and how it compares to Basecamp, tying the whole experience together.
PPC Works
When done correctly, PPC marketing can improve your brand and generate leads. Take advantage of the possibilities PPC can offer and start showing why your company is the best of it's kind.
That's what digital marketing professionals like us here at Houston Web Design Agency love about what we do: PPC strategy for winning businesses.
We are here to make sure our clients are getting seen no matter how competitive your markets is. Contact us today to discover how we can help you keep your PPC budget under control and crank up your return on investment.