At our Houston web design agency, we build websites exclusively on WordPress, which is known for its numerous features and unbeatable flexibility. While these things definitely set WordPress apart from its competitors, what really puts the icing on the cake are the plugins! There are a variety of ways to fill in any missing pieces with plugins that can take care of any problems that arise. Hit a snag? There's a plugin for that!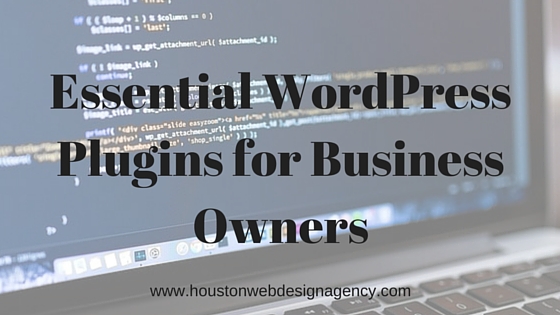 Sitemaps are important in that they help search engines (Google, Bing, Yahoo, etc.) crawl your website for information. By crawling your website and data gathering, search engines then know where to place your site in comparison to similar search results. Google XML Sitemaps is inarguably one of the best WordPress plugins for creating a sitemap because it supports all kinds of WordPress sites and URLS, from custom built websites to small-time blogs.
YARPP is awesome because it displays related posts, pages, or other site content relative to the current page or post. This helps introduce your readers to related content on your site based on what they are already interested in and reading. YARPP works great for websites that have blogs.
BJ Lazy Load makes it so that your website loads faster and saves bandwidth when doing so. The plugin operates by replacing all the images and content iframes on your website with a placeholder. It fully loads the content when it gets close and the user scrolls through the page.
This plugin is useful in that it checks your site for broken links and will email alert you if one is found. It will also display the broken links differently from healthy links on the front end of the site.
Advanced Custom Fields (ACF) is great for WordPress websites that need broader and more flexible data like other Content Management Systems. ACF allows WordPress websites to be highly customized in an easy way–you can create a variety of fields to fit your business' display needs with little trouble.
Akismet is one of the best anti-spam plugins that WordPress has to offer. To avoid spam comments on blogs, pages, and more, Akismet is the way to go. It's unique in that it learns and grows every day via tactics that spammers use.
WP Google Analytics links to your Google Analytics account and makes it even easier to track goals and conversions for your business. This plugin also tracks site speed and offers the option to track 404s as events. The plugin is very useful for business owners because it generates a helpful dashboard of important website statistics that can help you strategize for future activity on your website.
OptinMonster is a hugely popular conversation rate optimization plugin for business owners on WordPress. It allows website owners to convert users who are abandoning the website into email subscribers by generating a pop-up. If you're looking to grow your email newsletter subscriber list, this is a great plugin to check out!
Speaking of emails, MailChimp is one of the best email newsletter generators on the market! It allows you to both create email subscriber lists and generate and disperse emails to them. MailChimp is great because it's very user-friendly and the email templates are super customizable.
Security is always a huge issue for business owners and website curators. Sucuri Firewall is great because it actively protects your website against all kinds of spam and hacker attacks like brute force attacks, DDos, malware threats, XXS attacks, and more.
On the same vein as security, backing up your website is crucial! Accidents happen and it would be a tragedy should your CMS get wiped. Backup Buddy is easy for business owners to use, super reliable, and it backs up your website's data as frequently as you want it to.
Yoast SEO is one of WordPress's most popular plugins. It makes it easier for site owners to navigate all the SEO basics and it monitors the optimization of each page based on the keywords that you input.
Nobody likes a slow website, especially not Google. Faster loading websites rank better, so it's important to cache your website's files and images. W3 Total Cache allows you to present your users with cached and compressed files and images. Once something has been chached, it will load much faster the next time it's triggered from a web browser. If a user has visited your website one time, with W3 Total Cache, the next time they visit, the faster your site will load for them.
WordPress does have gallery options, but to create a beautiful gallery for all of your business' product or service imagery, Envira is perfect. Envira galleries are responsive and easily modified. Envira allows you to create multiple galleries and place them anywhere on your website with ease.
There are a variety of tasks that business owners are responsible for, so content curation and marketing shouldn't have to be one of them. If-This-Then-That (IFTTT) allows website owners to schedule posts on social media or elsewhere based on RSS or news feeds, other social media posts, and more. IFTTT lets users create "recipes" for scheduling and it's one of the easiest-to-use marketing automation tools on the market.
Business owners should also be savvy to their competitors and what they are doing to advance their website's online presence. SEMRush is an excellent tool to check web rank, analyze backlinks, compare website statistics, and more.
Want to Learn More About WordPress Plugins and Web Design?
Our Houston web design agency knows what it takes to make your website work for your business. Creating a website that does everything you need it to takes a great amount of digging–but we are prepared to do that for you! If you're looking to build a better website for your Houston business, give us a call at (800) 440-6190 or fill out our contact form. Someone from our web design team will be in touch with your shortly to talk to you about a free consultation!