In the wide world of search engine optimization, there are a lot of things to remember! SEO is an ever-evolving industry that requires a lot of attention and continual research. At our Houston digital marketing and web design agency, we work to develop beautiful websites that are well-optimized for search engine traffic. We work hard for our clients to stay on top of the Google algorithm updates, user experience flow trends, mobile design and optimization trends, and more.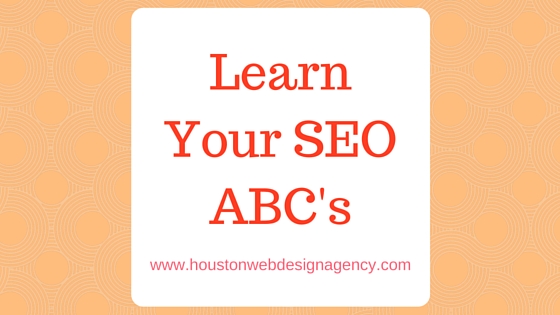 We know how important it is for our clients to be found online, and there's a lot that goes into doing so! Some people assume that proper SEO is just a "one-and-done" type of deal, but that couldn't be further from the truth. There are a variety of tactics and time-consuming steps that we must take to try to get your website to the first page of Google.
Learn Your SEO ABC's!
To simplify the understanding of SEO and all it has to offer, check out this colorful infographic by our friends over at Creative Meerkat and Red Square SEO.

Houston Web Design & SEO Agency
Have more questions about the world of SEO? Contact one of our Houston SEO professionals for a free website consultation. Our well-versed and highly skilled team can't wait to help put your business in the digital spotlight! Call 1-800-440-6190 or submit a form and someone from our Houston web design office will be in touch with you shortly.