Know what SEO, B2B, and CPC means? Here's a list of often used internet marketing acronyms and their definitions presented by our Houston Web Design Agency.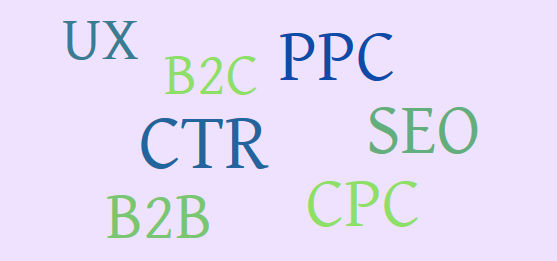 B2B
B2B is an acronym for Business to Business. This describes a company that sells their product or service to another business, versus to an everyday person. Examples of large B2B companies are Salesforce.com and Cisco.
B2C
B2C stands for Business to Consumer. Unlike B2B, this means a company that sells their product or service directly to a consumer. This term is over interchanged with the term "retail". Examples of large B2C companies are Amazon, Starbucks, and McDonalds.
CPC
CPC means Cost Per Click. For online advertisements, this term refers to the price charged to the company placing the ad for every user that clicks on their image or link. If someone sees their ad (called an impression) but does not click on it, there is not cost per click on that instance. Google AdWords and Bing Ads are places where CPC is commonly used.
CTR
CTR stands for Click Through Rate, which measures the success of your online advertising campaign. This is the percentage of how many users click on an advertisement versus the number of people who saw the ad. A higher CTR is more desirable, because it means more people who see your ad are interacting with it. If your ad constantly has a low CTR, you may want to adjust the language, location, or demographic you are targeting it to.
PPC
Pay per Click Advertising is often referred to in shorthand as PPC. Google AdWords and Bing Ads are some of the tools offering Pay per click adverising where you know how much you will be charged when a user clicks on your ad prior to posting it. These ads can be used to get more traffic to your website, Facebook page, or a contest, or more.
SEO
The most common term used when people are talking about internet marketing, SEO stands for Search Engine Optimization. It refers to updating your website and online presence with the goal to increase your ranking in organic (un-paid) search results. SEO being applied to your website helps your company, product, or service be found when people are looking for you in Google, Bing, Yahoo, and other search engines.
UX
UX stands for User Experience. User Experience means when you design your website or other online properties, you make it as easy as possible for a user to purchase your product, find out about your brand, or schedule an appointment. This can include adding a contact form on the sidebar of every page of your website, having a checkout button in the header of your page, and more.
---
If you are looking for effective SEO solutions, please call us at 281-764-9070 or schedule a consultation with one of our SEO gurus.