Content management systems, also known as CMS, can take the stress out of updating or managing your website. If you have a website, it falls into one of two categories: (1) a static website, or (2) a content management system. A static website means all updates have to be hard coded by a programmer. A content management system, on the other hand, means you can make dynamic page updates all on your own.
The benefits of building a static website are few and far between, so it's time to say GOODBYE to that static website and say HELLO to a modern CMS. Here are five reasons to break up with your old static site and never get back together.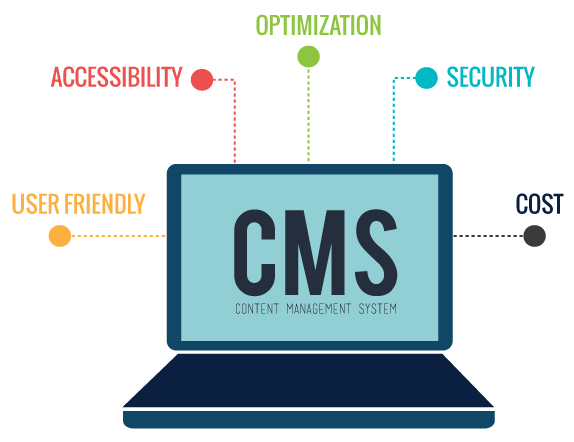 5 Reasons Why you Should Update to a CMS
Built for the Non Programmer. Content management systems, like WordPress, were built intentionally for users with little to no programming experience. Once your website is developed by a professional, changing the content on your website is simple and easy to learn. Images and text can easily be inserted and uploaded on pages similarly to that of a WordDoc.
Collaboration & Accessibility. CMS allow multiple users to access and update the website. This encourages colleagues to work together to strategize web content and collectively make updates to the website. Website updates no longer have to be just one person's responsibility! In addition, content management systems are convenient to access. You can login to the back-end to the website from anywhere. All you need is a Wifi and an electronic device!
Rank Better with Built-In SEO Tools. Content management systems offer a number of plugins and tools that help your site rank better on Google, Bing, and Yahoo. These tools can help implement a basic SEO strategy so you can increase organic traffic to your website.
Security. The last thing anyone wants is for their website to get hacked. In general, websites are vulnerable and are often targeted by hackers looking to steal personal information. However, content management systems  are consistently tested by a whole army of developers and computer scientists in an effort to protect users against any potential security threats.
Cost Effective. Maintaining a static website can incur some major expenses, and can take a lot of time. Not to mention, waiting on a developer to make updates to your website can be frustrating. A content management system can save you time and money. With a content management system in place you do not have to rely on a web developer to make simple site changes for you – you can make the changes yourself and on your own time.
Interested in learning more about content management systems, like WordPress? Contact one of our web design experts at The Houston Web Design Agency at 281-764-9070 or fill out our contact form!