Creating a website is no easy feat, but it's necessary in order for your business to grow–both on and offline. But how do you know if the design of your site is still doing the job? Is there any quantifiable life span of website designs? Turns out, there is–and it's important that your website look and feel like it belongs in the year it's being viewed in.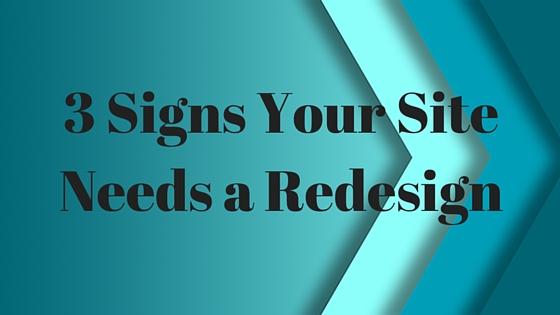 Here a few reasons why you might consider redesigning your website:
It's been 5 or More Years Since Your Last Redesign
If this is the case, it's definitely time to delve into something new. Technology and web capabilities are ever-changing and your site should, to some degree, be able to adapt to these changes. Websites, like anything else, age over time. Style, trends, and design principles evolve and grow, so to have a stagnant site in a dynamic culture is fatal. There are a variety of areas that a website should be adaptable to in this day-and-age, including mobile friendliness & adaptability, clean aesthetic appearance, and hi-res support. If your site is lacking in these areas, it could seriously harm you.
Responsive design and clean-cut appearance are the top-two contenders in modern web design, so it's important that your site possesses these or be on its way to.
Your Website Feels like it's Running Slowly
Speed is key. If your site is older, it's likely that it won't be able to keep up with the modern pace of newer websites. The more adaptable your site is, the easier it is to navigate and load things more efficiently.
The longer it takes for a page on your site to load, the more likely it is that your users will abandon the site altogether. It is vital for your website to be up-to-date so that traffic, images, and other content don't bog it down and cause it to run slowly.
Your Current Site Design Limits What You Can Do
When you go to update a feature on an old site, there is an ever-increasing chance that the site will break. You want to be able to keep up with your competitors as well as your customers' demands. People want to roll with the changes, and they want to operate websites that reflect modern technology and design.
One major example of outdated web design is the use of Flash when embedding videos and adding interactive aspects to one's site. Modern HTML5 and CMS3 coding completely eradicates the need for Flash, yet many older sites still operate with it in place.
Make sure you don't get caught behind the times. If any of these characteristics speak true to your current site, consider giving it a reboot.
Need Help Redesigning Your Site?
Call our Houston web design and internet marketing experts at 800-440-6190 or fill out our contact form.