With so much information readily available at people's fingertips, it can be hard to make your presence known in the blogging community. Whether you are an established business, small startup, or a style blogger, blogging can be pretty complicated. To help you make your blog posts worthwhile for both your readers and yourself, here is a list of 10 blogging mistakes you should avoid, and how you can fix them.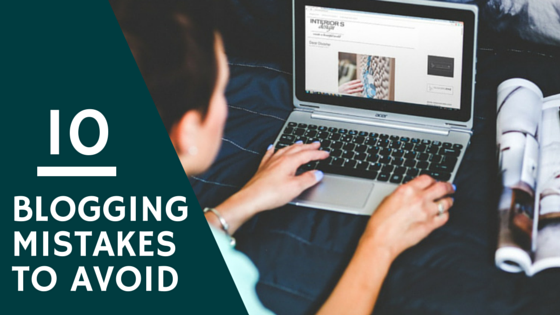 1. You don't know who you are writing for
One of the biggest mistakes made by bloggers is not understanding their audience. As a blogger, it is not just about writing on a designated topic, but connecting your audience to that topic as well. It's imperative that as a blogger and/or business owner you understand what problems your readers are facing and find a way to address and solve that problem in your post.
2. You write only for SEO purposes
If you are writing blog posts for the sole purpose of boosting your website ranking, it is likely that you are boring and chasing away your readers. Instead of writing just for robots and crawlers, write for your target audience first, then optimize the post for SEO.
3. You're an inconsistent writer 
To increase the chances of your blog or website being seen in online, you need to be consistent in both quality and quantity. The hardest part for bloggers is finding that balance between the two elements. The blogs that are successful in the long run are those that make and stick to a publishing routine while also publishing quality posts that entice readers to come back for more.
4. Not committed to a process
Many businesses are under the misconception that blogging will have an instantaneous impact on their business. This is definitely not the case. Blogging success takes time, it is a gradual process. As a rule of thumb, plan on writing 2-3 blog posts weekly for six months (or longer if you're in a highly competitive industry) to start seeing the results you've been hoping for.
5. Poor writing
As a blogging individual or business, the objective is always the same – to find, keep, and convert readers. A sure-fire way to detract those readers from returning is bad writing. Writing mistakes make it harder for readers to comprehend, and it also puts off an unprofessional opinion towards you or your company.
Good writers are clear, concise, grammatically correct, and use spell-check. Take time to research ideas and facts that you may be unsure about. The most important thing you can do as a writer is to read over your blog post before posting!
6. You fail to write a compelling headline
A compelling headline or strong opening statement really helps engage your readers. If your headline is not clever or accurately descriptive of what's written in your blog post, readers may lose interest before reading the remainder of your post. It's been ingrained in us since we were kids, to always start a story or in this instance a blog post, with a hook. Use that hook to grab those readers into your blog post.
7. Not putting your readers first
Remember to always keep your readers and customers in mind when writing a blog post. Ask yourself, is this content relevant to my consumer? Is this post helping solve a problem for my target audience? The reason for blogging is NOT to solely advertise your company, your services and products. The reason for blogging is to help solve a potential customer's pain. Informative content such as tips and "how-to" posts seem to be the most effective.
As a company, the benefit of writing informative content over "salesy" content is ranking for certain keywords and phrases your target audience is searching for on Google. How's that for a win-win?
8. Engage with readers
To write a blog post is one thing. But to write a blog post and then to have your readers engage and interact with it…that's amazing! Don't leave your readers hanging out by themselves in the comments section; thoughtfully respond back to their comments and questions. This virtual interaction is the start of building a relationship with a potential customer. Acknowledging prospective customers will increase their chances of returning to your blog or website and converting.
9. Not promoting blog content
What is the point of writing a blog post if you aren't going to promote it? Social media, including Google+, is a great resource to use for promoting blog content. If you're writing great content, why not share it? Your followers want to be informed and kept in the loop. On the other hand you don't go overboard with the self-promotion, you don't want to drive your followers crazy.
10. Neglecting blog SEO
Make sure that each time you write a post you are utilizing SEO best practices so that your content ranks well when potential customers search on the major search engines. You need to make sure you include (1) A descriptive and rich keyword title, (2) A keyword rich URL, (3) Section headers, or H2s, (4) Anchor text, and (5) Meta description.
Schedule a Consultation
Don't have the time or resources to write consistent and quality blog posts? We have an experienced team of writers and content strategists that can help you out. Give us a call at 800-440-6190 or schedule a consultation with one of our content marketing experts.