Twitter is a universally utilized social media platform that is known for its distinguishable "favorite" button–which takes form as a small star. The favorite button, or "fav" is it was more frequently nicknamed, acts as a means for users to acknowledge agreement, support, laughter, and, occasionally, albeit ironically, malice. That is until Twitter unveiled its new "like" button on Tuesday. The like button, a massive change from the star-shaped fav, presents itself as a heart, as many social media platforms' like buttons do.
Twitter introduced the new like button as a way to streamline social media websites and heighten user-friendliness and experience. Twitter claims that the heart-shaped like button is to reflect that of Instagram and Tumblr–and to mimic the "like" sentiment found on Facebook. The fav-to-like transition also took place on the Twitter-owned social media platform, Vine, which previously used smiley faces to exhibit similar feelings.
While going for the like was an understandable move on Twitter's part, it was remarkably ill-received by Twitter users themselves. Most people appreciated the uniqueness of the fav button and lamented it having been replaced by likes.
The fav button was unique to Twitter and its usage could be prompted by a variety of reactions. It was part of the essence of Twitter. The fav started out as a half-hearted bookmarking tool for users to collect their favorite tweets. As Twitter grew, this became somewhat of an obsolete function as the necessity to save something that is 140 characters long and whose relevancy is time-sensitive lessened significantly.
The importance of the fav button flourished as Twitter's popularity did and it was used for a plethora of purposes, as previously mentioned. The introduction of the like may simplify the interface so that everyone may benefit from it equally, but it also detracts from the essence of Twitter that has always existed–individuality.
With the streamlining of the heart-shaped like button so that it's equivalent across all ultra-popular social media sites, Twitter has made it easy to transition from one to the other–but in the process has lost its eccentricity.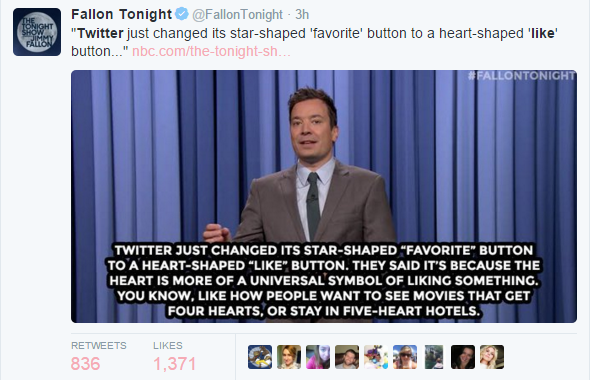 Want to Know How to Improve Your Social Media Presence?
Contact our Houston Web Design Agency today. We specialize in web design and internet marketing and one of our social media gurus can get you and your business on the right online path. Call our office at 800-440-6190 or fill out our contact form.