Every webmaster needs to know how well their website is performing. Understanding your website's performance is the most critical factor in determining whether your website is successful or not. There are many different website analytics services on the market, but the best one available is Google Analytics. Good news! Google Analytics is completely free, it's user-friendly, and it provides a sizable amount of website performance statistics! It only takes a little bit of time to install the Google Analytics tracking code on your website, and a majority of reputable website development companies generally take the important step of adding the Google Analytics tracking code either before or during the delivery of your website.
Once the Google Analytics tracking code is installed, it automatically starts tracking visitors to your website. Within the dashboard of Google Analytics, you are able to see lots of statistics on how visitors are interacting with your site, such as how many visitors your website receives per day, how visitors found your website, the average length of time a visitor stays on your site, the device they visited your website from, and whether the visitor became a website lead from filling out a form or giving you a call. All of this data sets important factors when determining future priorities for website improvements.
One of the benefits of Google Analytics is the massive amount of website data offered, but having so many data to review can also be a hindrance to time management. It's not unusual to gaze at Google Analytics data for hours trying to figure out what it all means. To ensure you are checking the most important website stats, here's a helpful guide to maintaining efficiency while reviewing your Google Analytics data.
The Best Way to Read Google Analytics in 2018
Compare Dates
By comparing dates, you have the ability to see how the website is performing for a specific time range versus a similar time range in the past. On the top-right side of the Google Analytics dashboard is the date range options. The "Compare Dates" function allows you to see the progress of the website over time. You also have the ability to see benchmarks in the data.  Some of the more popular date comparisons are:
This week versus last week,
This month versus last month,
The past 30 days versus the same 30 day period one year ago, and
The past 30 days versus the 30 days after Google Analytics was installed on the site.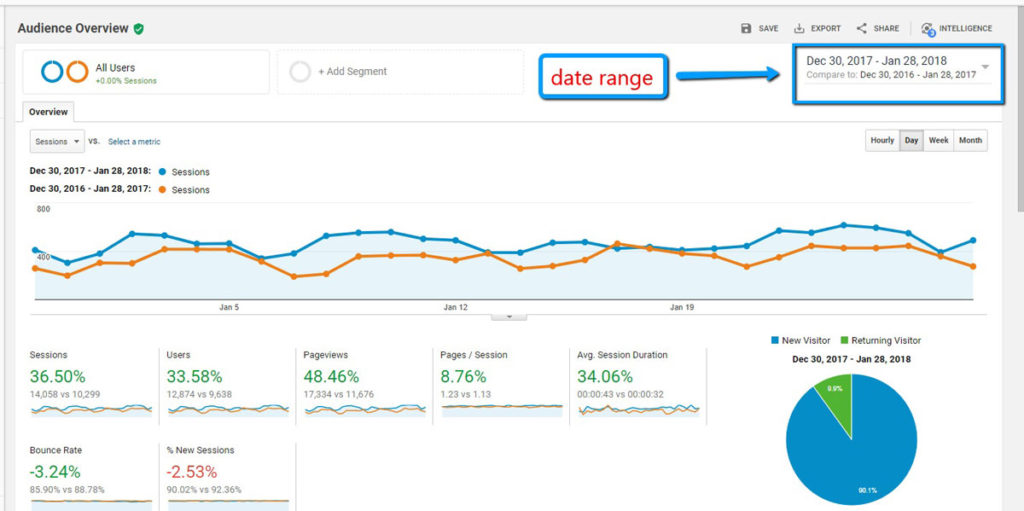 Audience Overview
Upon logging into Google Analytics, you will automatically see your website traffic audience overview.  The audience overview gives you a high-level overview of the traffic coming to your website, including the following:
Total Sessions – Keep an eye out for an increase in numbers over time. An increase in total website sessions will be green and a decrease in sessions will be in red.
Total Users – When it comes to total website users, the goal is to see increases over time. Similar to total sessions, an increase in total users will be reflected in green while a decrease in users will be reflected in red.
Page Views – Depending on your website visitor strategy, you may want to see an increase or a decrease. An increase would be positive if your strategy is to see visitors view multiple pages each visit and a decrease would be positive if you continuously updated your homepage so the visitor would not have to visit multiple pages on the website.
Average Pages per Session – Pages per session are calculated by taking the number of visitors divided by the total amount of pages viewed during the date range. Generally speaking, the more page views the better, so seeing a green number will be an indicator of growth whereas seeing a red number will indicate a decrease.
Average Session Duration – Normally, website managers are looking to see a green number (an increase) in average session duration because that means the visitor is spending more time on the website browsing your site and enjoying the content. If you recently redesigned the website to make it easier for your visitor to find the most important pages, you may see a decrease in the duration – and that would be a good indicator that your visitors are finding what they want faster.
Bounce Rate – For the most part, its good to see a decrease in bounce rate (green color) unless you recently made homepage updates so the visitor would not have any reason to visit multiple pages on the website. If the bounce rate increases, the color will be red.
Percentage of New Sessions – You'll always want to see a positive increase in numbers here. The more new sessions the better: that means more people are visiting your website.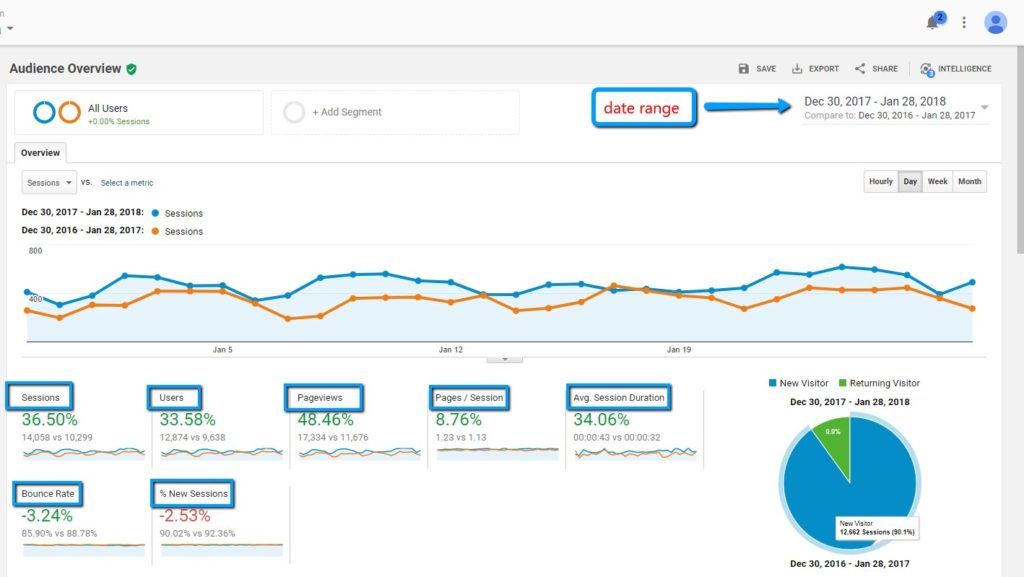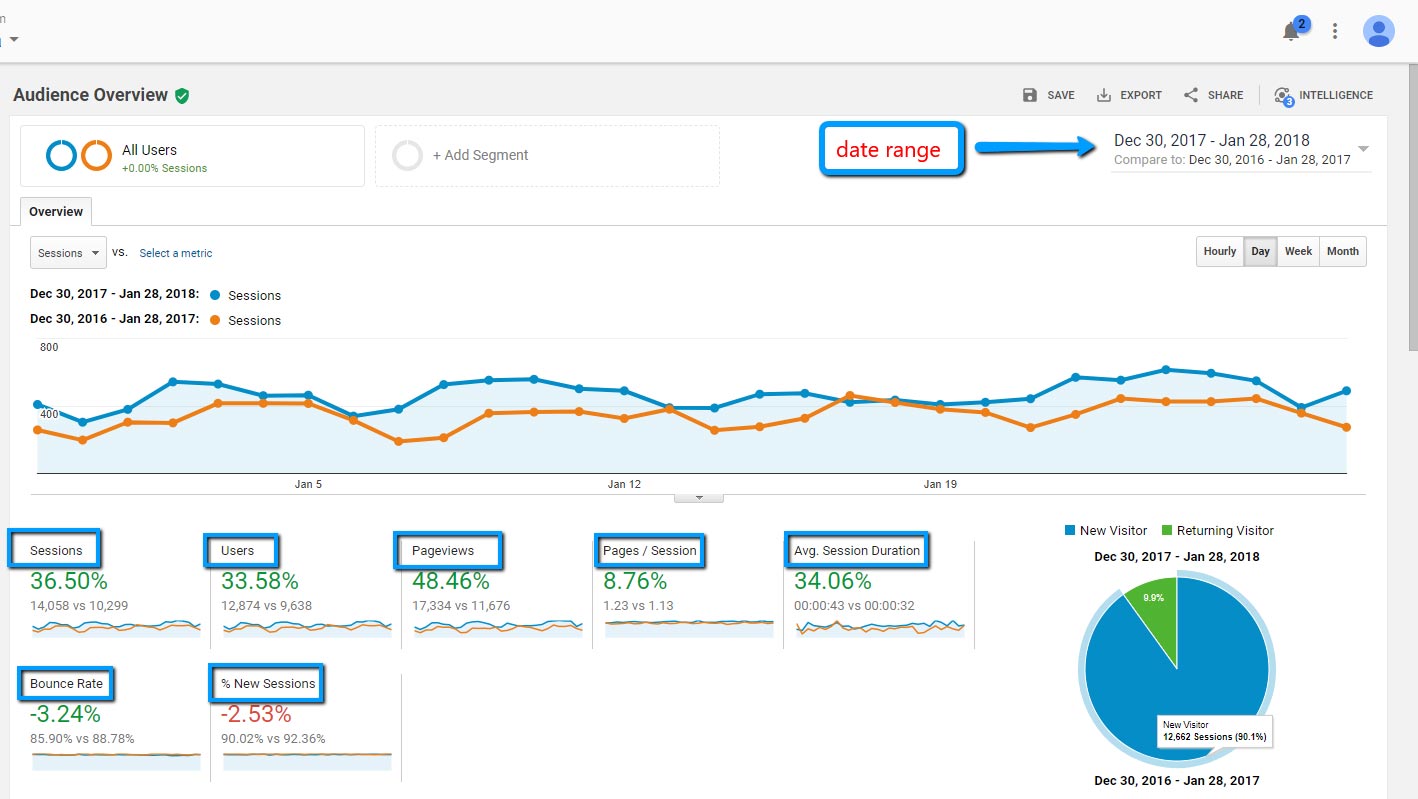 Aquisition
The acquisition section of Google Analytics shows how visitors discovered your website. Aquisition tells you if they found your website from a search engine keyword search, a referral from another website, a direct visit, or a social network such as Facebook, Twitter, Pinterest, or LinkedIn. Acquisition is important because it lets you know what marketing initiatives are effective in driving traffic to your website. The best view is Acquisition > All Traffic > Channels. Here's what you'll see:
Organic Search – This shows visitors who conducted a keyword search within Google, Bing, Yahoo, or another search engine website, noticed your website within the search results for that specific keyword, and then visited your site.
Social Network – The visitor represented here are ones that found a link to your site on a social network and clicked it. This is why it's important to leverage social networks to link people to your website.
Direct – This traffic is from users going directly to the address bar of their internet browser, typing in your website URL, and directly visiting your website.
Referral – Referral traffic is when a visitor is "referred" to your site from another website such as Yelp, YellowPages.com, a local chamber of commerce website, and other websites.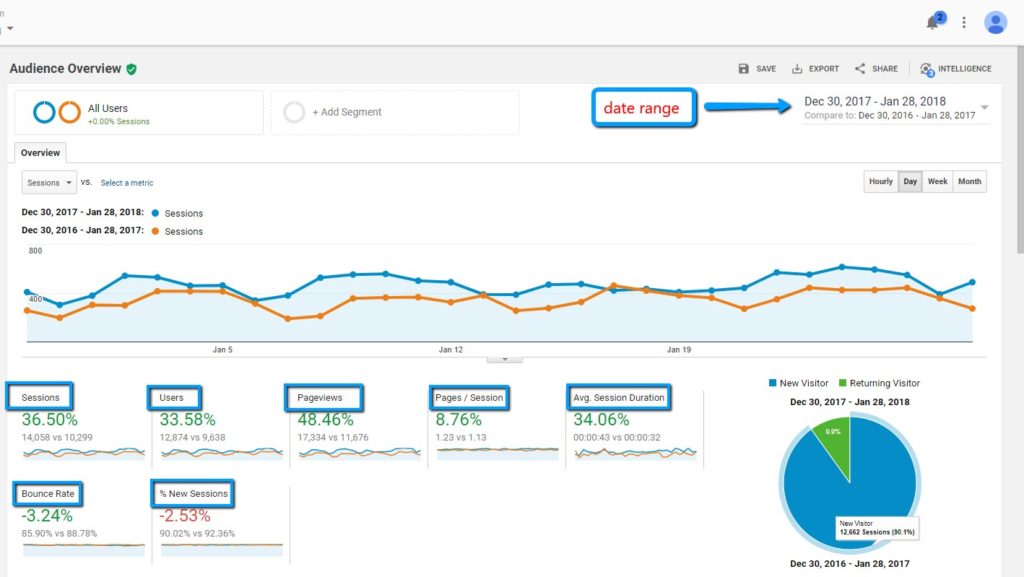 Device
In Google Analytics, you can determine what kind of device on which visitors are accessing your website. Whether it be a laptop or desktop, smartphone, or a tablet, understanding the device that your website is accessed from helps you ensure the experience is a positive one from all devices that drive visitors to your website. It's generally a combination of all three devices. You can access the "Device" view by click on Audience > Mobile > Overview:
Desktop – The visitor used a desktop or a laptop computer.
Tablet – The visitor used an iPad, a tablet, or an eReader.
Mobile – The visitor accessed your website from their personal smartphone.

Most Visited Pages
Understanding which website pages on your site are the most popular is critical in helping your website be successful. The most visited website page is usually the homepage, so it is important to pay extra attention to the second, third, fourth, and fifth most popular pages. Following the visitor's path from the homepage to the most popular pages helps you understand the visitor's journey. This ensures the experience on those pages helps your visitor travel down the marketing funnel towards your goals, such as completing a contact form, signing up for a newsletter, downloading a coupon, signing up for a downloadable PDF,  or giving you a call. To see what are the most popular pages in your Google Analytics dashboard easily, go to Behavior > Site Content > All Pages.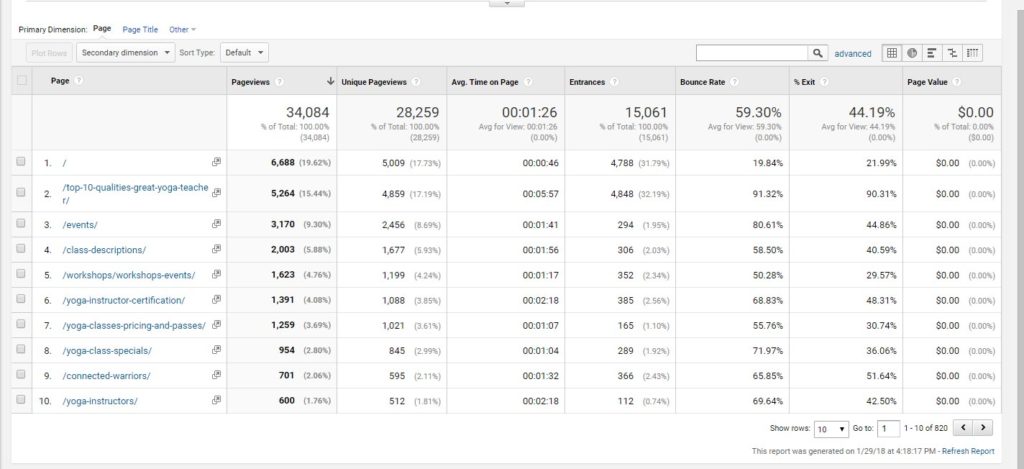 Remeber, Google Analytics tracking is completely free and it's considered the best website traffic service you can use to monitor the success of your site. It only takes a few minutes to set up your Google Analytics account and to add the tracking code to your website. Once installed, website data begins tracking visitors right away so feel free to check your website statistics as often as possible. Checking your stats in Google Analytics will help that your future digital marketing decisions are well calculated to ensure maximum success.
Contact our digital marketing specialists today
When you're still having trouble making sense of your Google Analytics data, contact TheeHouston.Agency for expert digital marketing services. Contact us at 281-764-9070 or fill out our handy contact form.